VP70 PVC window is perfect for those who seek for a product that combines good quality and price. This series meets all the European standards. They are also classy and elegant which makes them fit almost every interior. The main advantage of this series is a very low parameter of thermal leakage as well as good protection from an outside noise. These window will satisfy all those who value warmth and silence inside their houses.
Ever wanted to add the beauty of real wood to your home without all the worry and sheer hard work you would expect from wood. Now modern foil technology means you can have all the beauty - and even the texture - of wood with all the convenience, long-life and low maintenance of PVC. Choose the woodgrain or color that best suits the character of your home or building, either to blend in with the style or even to make a statement in its own right, and then sit back and relax, just as with any other PVC product. You can choose to have one of our range of woodgrains or color on the outside and then brilliant white on the inside, or on the outside and inside, to complement both the interior and exterior of your home.
Profile:
VEKA Perfectline, PVC, 5-chamber, 70mm, A-class profiles,
multi-bent galvanized steel inside the profile - makes the window solid and stable,
Thickness of profile's edges in the highest quality standard EN 12608 A-class (A-class window profiles have the thickness of outside edges of at least 3mm and the width of the inside chambers of over 5mm which guarantees high stability, low susceptibility and perfect parameters of acoustic insulation),
co-extrusion – dyed in special mass – the window's core is in the same color as outside cover - small scratches and damages won't be visible,
The profiles are available in range of colours and woodish veeners in standard: white, anthracite, winchester, golden oak, dark oak, walnut, mahogany. Other colors - for special request.
Glass:
in standard there's a double glazing 4-16-4 Ug=1,1 (EN673), but there's a possibility of choosing tripple glazing as well,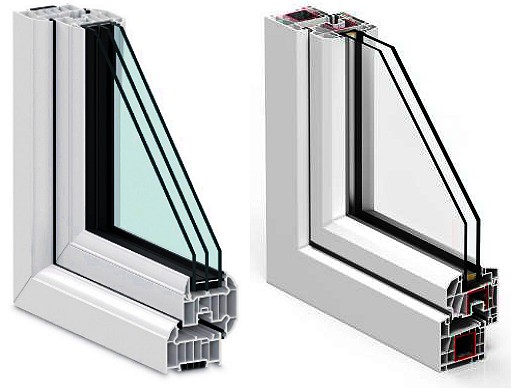 Heat-absorbing between-glass steel frame - four times better thermal insulation properties compared to other commonly used solutions,
a hudge range of other types of glazing: ornamental, heat-proof, safe: laminated, tempered.
ORDINARY GLASS
TEMPERED GLASS
LAMINATED GLASS

breaks and gives long, sharp parts

processed with controlled thermal or chemical treatments to increase its strength;

when broken, it shatters into small granular chunks instead of splintering into jagged shards

constructed of two layers of glass joined together with interlayer to form a permanent bond even when they break;

almost impossible to break
Fitting:
ROTO NT - most respected German fittings manufacturer,
Aluminum handle with four-step tilting mechanism in tilt and turn windows - allows adjusting opening to the current weather conditions,
Microventilation - allows for air-exchage without opening the window,
Blockade of incorrect position of the handle and tilt stabilizer - protects the hinges from damage,
EPDM gaskets - do not break, are ozone-proof and very resistant to bending, scratching and pressing.
possible openings:
| | | | | | |
| --- | --- | --- | --- | --- | --- |
| FIXED | TILT | TURN | TILT AND TURN | TILT AND SLIDE | 3 SASHES AND MORE |
| | | | | | |
* View from the inside
ONZ window - balcony door with opening to the outside,
Other construction options:
...and many others. Contact us, send an inquiry and we will make windows exactly like you want.
Supplementary accessories:
window-sill, mounting bars, tailor-made external shutters,
round or triangular shapes,
safe house option: security sensors, anti-bulglar system, child protection system (handle with lock, tilt-first handle, etc.),
low treshold, air inlets, balcony lock, outside grips,
wide range of handles in different shapes, lengths and colours, it is the perfect complement for window frames.They are made from the best quality materials. Only proven technology it is used In their construction; it ensures a long-term comfort of their use. The mechanism is robust, while allowing for convenient control of the window without the use of force.
Secustik Handles model Swing
Swing Secustik, Titanium
Swing Secustik, silver

Swing Secustik, old Gold

Swing Secustik, brown

Swing Secustik, white

Swing Secustik with key and button
Secustik Handles model Atlanta

Secustik Atlanta, titanium

Secustik Atlanta, old gold

Secustik Atlanta, brown

Secustik Atlanta, white
Handles for sliding windows Patio Automatic
Patio Automatic Handle, white

Patio Automatic Handle, brown

Patio Automatic Handle, medium brown

Patio Automatic Handle, silver

Patio Automatic Handle with key,
Toulon handle Secustik
Secustik Toulon white
Secustik Toulon black
Secustik Toulonsilver

Secustik Toulonold gold
Secustik Toulon titanium
l Toulon with key and for Patio and HST systems
PVC filling instead of glass and decorative glass. It is A perfect solution, to provide light into the interior while cut off from the rest of space. Application of this type of glass in a room, allows for varying degrees of light scatter and blur the contours of the image, guaranteeing the confidentiality of the persons residing. Due to the decorative value,ornamental glass, are perfectly suited as office space walls, railings elements or glass doors, giving the interior a of lightness and modernity.



Window U-value for window in size 1230 x 1480 mm

W oparciu o okno referencyjne o wymiarach:szer./wys. 1230 x 1480 mm

: